Jury Consultation
Voir Dire Questions or Questionnaires: Custom tailored questions and/or questionnaires are designed for Voir Dire.
Jury Profiles: Profiles are created for desirable jurors and strikes according to the fact pattern of your case.
Jury Selection: In court consultation is provided during jury selection. Once a jury is seated attorneys are provided with a written report on jurors with a list of strategy suggestions and possible hazards in the case.
Juror Post Trial Interviews: Post trial interviews of jurors are conducted in person, by phone, or by questionnaire. Attorneys receive a written report on impressions and suggestions.
Theme analysis and Tactical and Litigation Consultation
Tactical Consultation: We work with our investigator or yours to increase the communication and efficiency of your team. We advise and consult with experts on your case and assist in their preparation.
Client Management: We consult and advise clients and families before and during trial as to what to expect during the progression of their case. This is particularly helpful to reduce anxiety and increase cooperation with difficult clients or emotional cases.
Power points or trial director – loading or in court assistance
Scanning/formatting and digital media
Videos
Public relations/press releases and packages
Web seminars and training
Penalty phase consultation in death penalty cases
Civil Litigation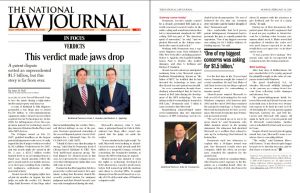 Click here or on image to view full PDF of article
In 2007 Toni selected the jury and advised counsel for Alcatel-Lucent Technologies during a trial against Microsoft over the MP3 patent. The case resulted in the largest patent law verdict in history, $1.52 billion. Later that year she worked on the second Alcatel-Lucent v. Microsoft trial which resulted in a verdict of $367.4 million.
 Extensive Trail Experience in:
Patent Law
Sexual Harassment and Discrimination
Employment Cases
Wrongful Termination
Personal Injury
Medical Malpractice
Insanity Defense Cases
Civil Rights
Contract
Antitrust
Construction Defect
Some of our more notable cases:
Criminal Litigation
Toni M. Blake has testified as an expert witness for change of venue motions and on jury selection for death penalty post conviction hearings. She has served on the faculty for the Monterey Death Penalty Conference for many years as well as the Defense Investigators Training Academy. She speaks several times a year for the California Public Defenders Association and the California Attorneys for Criminal Justice as well as several other other local and national bar groups. Her work on false allegations of child abuse has been featured in Discover Magazine, the Chicago Tribune, American Bar Journal and on TV documentaries. She has also served as a technical advisor on criminal pathology for books and movies.
Extensive Trial Experience in:
Capital Cases (more than 25 Death Penalty Trials)
Battered Women Syndrome Cases
Murder Trials (40+)
"Shaken Baby Syndrome" Cases (500+)
Sexually Violent Predator Cases (30+)
Diminished Actuality
Insanity Defense Cases
Some of our more notable cases:
Focus Groups/Mock Juries
Focus Groups are often a cost-effective first step in preparing for trial and in determining what potential jurors think about your client and your case. With 2nd Chair Services all of the work is done for you.  Merely provide us with a budget, and we will let you know what style of Focus Group fits your needs.  Everything, from recruitment to facility fees, will be managed so that this process is as simple as possible.
Focus Groups also provide feedback about attorney presentation and style, assist in creating a discovery plan and identify juror profiles. Both focus groups and mock juries help test a myriad of components including effectiveness of themes, theories and arguments, attorney arguments, perception of attorneys and witnesses, and development of juror profiles.